Farmers have always cared deeply about their land and their stock, but these days they're not leaving anything to chance. Increasingly intensive farming methods mean it is vitally important for farmers to know exactly when and where to apply irrigation water and fertiliser.
In New Zealand, there's probably no one doing this more accurately than Methven couple Craige and Roz Mackenzie. The Mackenzies are equity partners in a 1200-cow dairy farm and operate an adjacent arable farm, as well as running a precision agriculture business with their daughter Jemma. Their use of precision farming techniques, combined with measuring and monitoring on the farm, saw them win the Ballance Farm Environment Awards in 2013.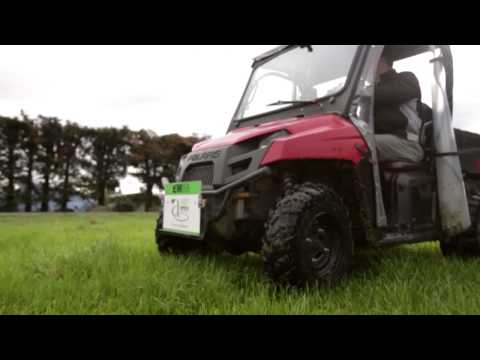 GETTING STARTED
Craige, who became interested in precision agriculture techniques after spending time overseas as a Nuffield scholar in 2008, says farmers don't need to invest in expensive hardware or be particularly tech savvy themselves to make use of the new technology.
"There's enough contractors and consultants and fertiliser companies that actually understand this stuff for farmers to be able to get the benefits without spending anything on the hardware."
Craige says any investment in precision agriculture needs to be based on good sampling information from the farm. He advises farmers to "put a toe in the water" by doing one paddock to see what the benefits are. In some cases the payback will come in the first year.
He says the first step is to get an electromagnetic map (EM) soil map made, which shows up soil variability across the farm.
With that established, GPS-based variable rate irrigation technology (VRI), for example, can then deliver more water to parts of the paddock that need it and less to other parts which have sufficient water in the soil profile.
MEASURING SUCCESS
Craige says that on their dairy farm moisture probes in the ground allow real time monitoring of water in the soil profile. "We're always wanting to sit halfway between the [soil moisture] refill point and the full point so that we can capture every rainfall event."
In the first year of using VRI water savings on the Mackenzie's farms averaged 32 per cent. In the important shoulder seasons, savings of around 50 per cent were achieved by applying water only to the lighter soils.
Craige says grid and zonal soil sampling combined with variable rate fertiliser application has led to 40 per cent savings in base fertiliser and lime.
Another system, Smart-N, allows nitrogen fertiliser to be applied so that it avoids cow urine patches, which are the biggest source of nitrates leaching through the soil.
"There are massive savings in fertiliser."
 He is confident farmers can reduce the nutrient loss from farms sufficiently using these technologies to satisfy tougher regulations.
"All these are just some of the tools that farmers are going to need to acquire to meet pending [environmental regulation] changes and the pressures we're going to come under."