Stu Muir is the fifth generation of his family to farm and fish the banks of the lower Waikato River Delta and he's working hard to stabilise the local whitebait population for future generations.
Muir's childhood home is a 200 hectare dairy farm just shy of the Waikato River mouth. This is where he learned Maori from his neighbours and acquired an extensive knowledge of the river's history from his father.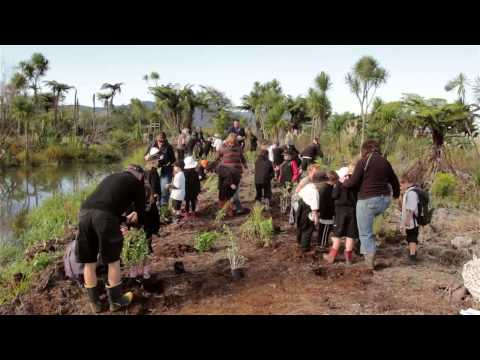 "Historically and culturally, it's a very important area," he says. "Any waka going north to south had to pass through this farm... Pre-1860, it was like State Highway 1."
It's also here that Muir decided to focus his environmental efforts - taking on the role of custodian of the land - when he returned home from travelling with his wife Kim Jobson.
"My grandparents used to drink from the back of the farm," Muir says. "It's not an unreasonable proposition that our children can at least swim in the creeks my grandparents drank from."
Whitebait lay their eggs in the highest spring tides, where the grasses get inundated, so whitebait stocks are one way to measure a creek's health.
While Muir's four primary-aged children can still kayak, shoot ducks and make huts on the river bank - just like he did as a kid - whitebait stocks have dwindled in recent decades as the waters of New Zealand's longest river have fallen victim to the impacts of koi carp, factory and nutrient outflows, and hydro-dams.
Muir, 43, is continuing the work of his late father Sandy Muir. Thirty years ago, Sandy Muir started fencing the waterways. From his late teens, Stu Muir has cleared introduced plants from the swamps and waterways.
Over the past two years, he and Jobson have been awarded grants through a crown and iwi co-governance body called the Waikato River Authority.
Muir and Jobson used the funding to continue work they'd done for years out of their own pockets - clearing noxious species, reopening creeks and banks, creating tidal ponds and planting out natives.
Last week, Muir and Jobson received notification of their third grant.
Waikato River Authority trust fund manager Sean Newland says Muir is a pioneer.
"People have seen the work that Stuart's done and others along the river are picking up on that. People look over the fence, they see what someone else is doing... and they want to be a part of it."
In this last funding round, some of Muir's neighbours also applied for grants to restore the wetlands on their properties - and were successful.
The Muir farm runs 500 milking cows. Muir says it's possible to be a profitable farmer while putting the environment first, but it requires determination and hard graft.
Newland says anyone can plant 10 trees - it's the grit to plant 3000 in swampland that sorts the hobbyist from the environmentalist.
Contractors work a digger and Muir works a chainsaw, while Jobson and friends plant. Aka Aka Primary School, south-west of Waiuku, has an ongoing relationship with the wetland and visits to help with planting and watch progress on the whitebait spawning habitat regeneration project.
Among them on a recent visit was pink-gumbooted Hazel Muir, 6. She enjoys catching fish in the wetland and making islands from logs, and says this is one of her most favourite places in the world: "It's more favourite than home and school".
Sandy Muir, 8, is his Dad's whitebaiting buddy. He's looking forward to the day when he can fish for whitebait in the creeks on the farm again. Taite Muir, 9, helps plant trees in between paddling adventures in the creeks.  
Lexi Muir, 11, rides her horse to the wetland and spends a lot of time there during duck-shooting season. She and her siblings fish for environmentally-destructive koi carp - they get $1 a kilo for the fish (which is then turned into fertiliser).
She is looking forward to spending time in the wetland when she is her father's age, knowing she helped restore the waterways. Lexi says the Muir children are proud of their parents' efforts.
"We're not only making it better for the whitebait. It's cleaning up the whole environment and if more people could do that, it'd be really cool."
Want to help clean up the Waikato?
Waikato River Authority trust fund manager Sean Newland says there are wetland and riparian restoration opportunities along the length of the river. Those not farming riverside properties can still get involved by asking local farmers if they would like a hand with planting or other restoration tasks.  Similarly, many inland farms have small blocks of remnant kahikatea bush which is often trampled by stock. If these could be fenced, with a simple two-wire fence, they could provide lush habitats for birdlife.
For an overview of some environmental initiatives underway in the Waikato, visit:http://www.makearipple.co.nz/Action-groups/